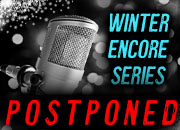 Postponed - Teacher and the Poet - Winter Encore Series
Due to Governor Wolf's Limited-Time Mitigation Order announced today, our December Winter Encore Series events have been postponed. We are hopeful to continue our live entertainment in January 2021. Stay tuned for further announcements regarding our events!
Furthermore, Roadies Restaurant will be closed for indoor dining effective 12/12/2020. Roadies will still be open for take out and curbside pick up! Orders may be placed by calling 610-826-9100.
We would like to sincerely thank our loyal guests who have supported us through these difficult months. We will continue to push through this and look forward to seeing you in the new year!
Join us for our indoor, socially distanced entertainment – Winter Encore Series!
Thursday evening events will take place in Roadies Restaurant and Bar from 5:30pm to 7:30pm.
As we strive to become the industry benchmark for health and safety, we have some guidelines that we will need your help following-
- ALL guests are required to wear masks while entering, exiting, or otherwise traveling throughout the venue. Face coverings may be removed while seated.
- Observe social distancing, by staying 6' apart from groups outside your own.
- Per state requirements, the MAXIMUM number of people allowed in the venue will be 185. Once we hit that number, no additional guests will be allowed to enter until others leave.
You already know this but just in case you forgot, Roadies Restaurant is open! That means you can have a seat at your table and enjoy a refreshing beverage and a delicious meal.
We ask for your patience and support as we adjust to this "new norm"! We really couldn't be more excited to kick off our "Winter Encore Series"!
COVID-19 Disclosure: In connection with your visit to Penn's Peak, please be advised that you must follow Penn's Peak's policies, CDC guidelines and the recommendations of health officials. Please note that any public location where people are present provides an inherent risk of exposure to COVID-19 and Penn's Peak cannot guarantee that you will not be exposed during your visit. By visiting Penn's Peak, you acknowledge and agree that you assume these inherent risks associated with attendance. You also agree to follow posted safety instructions. Failure to follow instructions may result in removal from premises.
Thursday, December 17, 2020
Showtime 5:30 PM